When you purchase something after clicking links in our articles, we may earn a small commission.
If you really want to take your SEO game to the next level in 2021, then it's time to start using the best tools you can use. Over the years, SEMrush has been raising the bar for SEO professionals and aspiring digital marketers, and their toolkits are constantly improving.
From keyword research to site review, from link building to in-depth performance analysis, SEMrush has everything needed to optimize SEO activities and deliver results to customers.
In this ultimate guide, we will provide you with all the information you need to start using SEMrush to master SEO.
What is SEMrush?
"SEM" stands for "Search Engine Marketing" and that's exactly what SEMrush focuses on. They created this tool to help both SEO experts and paid search professionals achieve even greater results.
SEMrush started as a complete Search Engine Marketing suite, but now it's even more than that.
It has many more tools including Traffic estimation for competitors (more on this later), Website Audit, Outreach Tool, Backlinks Monitor, Keyword discovery, PPC keywords tool, Advertising Research (what ads your competitors are running), Brand Monitoring, Product Listing Ads, SEO Writing Assistant, Social Media Tracker, Social Media Poster etc.
It is an essential SEM (search engine marketing) tool that I believe every serious blogger and internet marketer should have in their SEO tool arsenal.
SEMrush is a product from the maker of SEOQuake, a popular SEO addon for Firefox.
At the time of this writing, SEMrush has:
more than 130,000,000 domains and
more than 800,000,000 keywords in their database.
SEMrush will allow you to find all of the keywords for which any existing web page on the internet is ranking. You can also find more statistical details regarding specific keywords and related keywords which you can rank for.
SEMrush Overview
SEMrush offers the following amazing tools that help businesses to grow their online business:
Site Audit
Backlink Audit
Keyword Magic Tool for keyword research
Domain analysis
Keyword Difficulty Tool
On-Page SEO Checker
Domain vs. Domain
Brand Monitoring
Link Building
Lead Generation Tool
Content Analyzer
Social Media Poster
Position Tracking
PCC Keyword Tool
Social Media Tracker
Position Tracking
the list goes on…
1. Site Audit
SEMrush Site Audit tool is an advanced On-Page SEO tool that can identify critical SEO issues on any website. With this tool, you can find your website broken internal links, orphan pages (no internal links), too many on-page links, links with no anchor text, too long link URLs, Malformed links, etc.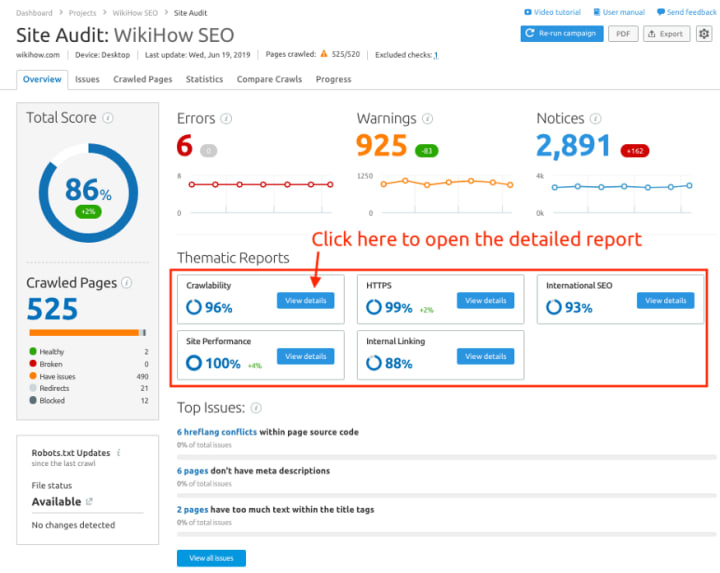 Along with Internal link analysis with the SEMrush site audit tool, you can check website Robots.txt file issues, Page loading time, broken canonical tags, HTTPS issues, optimize your meta tags, Google analytics, etc.
2. Backlink Audit tool
So now that you know how many backlinks you have and which domains are linking to your pages, how well can you trust those links?
Are they from reputable sources?
Do you have a bunch of links from toxic sources pointing to your website?
Even though you may have not created the incoming link yourself, too many toxic backlinks that haven't been disavowed makes Google think you don't practice good housekeeping.
Toxic backlinks can hurt the reputation of your own site, so you'll want to review your backlinks and disavow highly toxic links.
Use the Backlink Audit tool to comb through your list of toxic backlinks.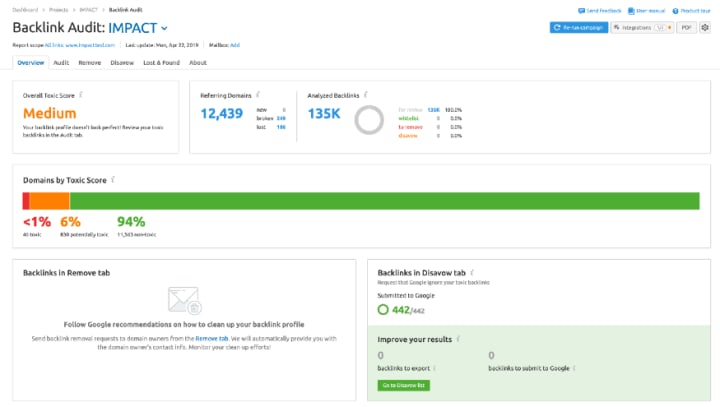 3. Keyword Magic Tool for keyword research
Ranking the right keywords is very important. This will help you target the right type of audience for your business.
It not only helps you identify new keywords to rank, it also displays the keywords you are already ranked on.
What I really like about SEMrush is the ability to research keywords and ideas for content.
Keyword Magic Tool
The magic keyword tool is available in the SEMrush package.
It contains more than two million keywords in its database. This will allow you to find tons of new keywords for your business.
To use this tool, just type in any keyword you are thinking of and it will populate a list of long tail keywords for you.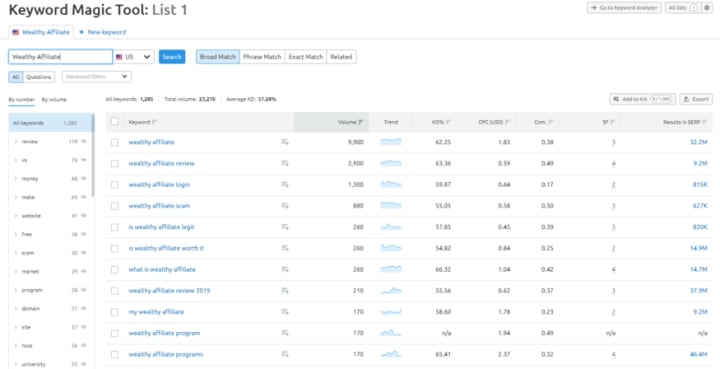 As you can see, I used Affiliate Rich (my recommended platform to start an affiliate marketing website) as the keyword.
In doing so, he showed me 1,285 possible keywords.
You will also receive the following data:
Find and use long-tail keywords.
Average monthly search volume.
A graph showing the trend.
How difficult it is to rank for specific keywords.
Cost per click if I decide to use PPC ads.
Competition when using Google Ads.
Results on the search engine results page.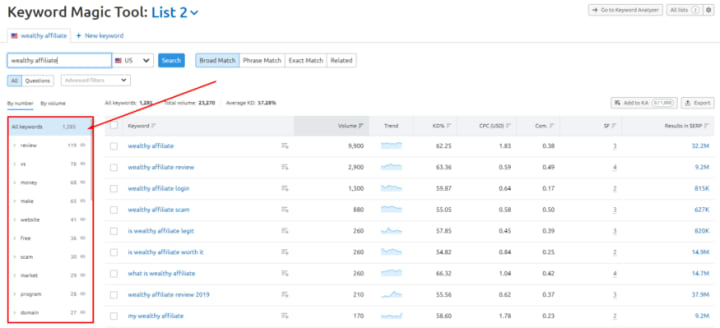 On the left side, you will also find keywords associated with "Rich affiliate".
Keyword Analyzer
The keyword analyzer allows you to explore up to 1,000 selected keywords.
After selecting your keywords, you can segment your keywords, send them to other tools, such as position tracking, and export the data to a spreadsheet.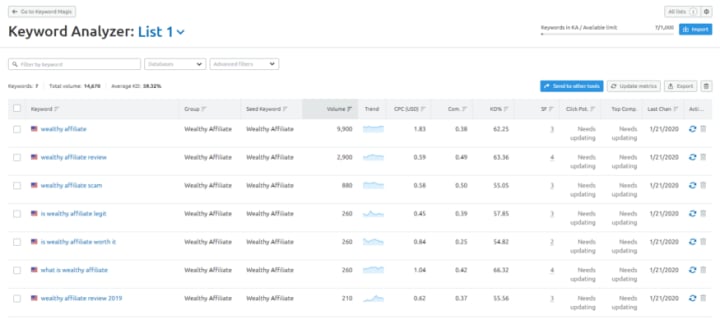 4. Domain Overview tool
With SEMrush, you don't have to stop at researching new keywords. You can also learn a ton of information about your own website including keywords you already rank for.
Oftentimes, you may not even realize some of the keywords that are bringing traffic to your site, or the volume of traffic those keywords are bringing you.
To gather information about your own domain, simply enter your root domain into the Domain Overview tool.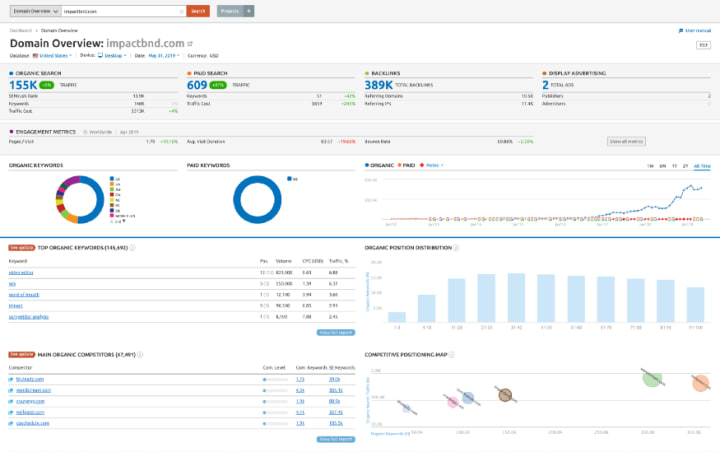 ­
Before moving on, one thing that should be noted is that in SEMrush's domain overview of a site, where it shows your monthly traffic, those numbers do not accurately reflect your site's total monthly traffic.
Rather, it's giving organic and paid search traffic from keywords that SEMrush has in its database of 120 million keywords. They use an algorithm to estimate your monthly traffic based on number of keywords, position of keywords, and average CTR of those keywords.
Your website traffic may be much higher when you calculate in direct traffic, social media traffic, and traffic from email campaigns.
With that said, let's take a look at some of the amazing metrics SEMrush can offer in their domain search when you type in your website address:
An overview of the amount of traffic that keywords known to SEMrush are bringing to your site through organic traffic.
The amount of traffic you might be bringing in with paid search.
Number of backlinks from referring domains
Visual representations of sources for organic and paid keywords.
A graph showing traffic by organic and paid sources over time (can choose 1 month, 6 months, 1 year, 2 years, or all time).
The top 5 organic keywords that are bringing traffic to your site. You can click into this section for a ton more analytics (more on these metrics below).
A graph showcasing organic position distribution, e.g., how many of your keywords rank in the top 3, how many rank in positions 4–10, 11–20, etc. up to the top 100 results.
Who, based on traffic and overlapping keywords, are your top organic competitors. Many of the competitors listed may not even be ones you knew about. More on the organic competitors later.
A graph showcasing a competitive position map based on number of keywords and organic search traffic
A chart showing the top paid keywords bringing traffic to the site (can be expanded to view a full report for more metrics
A graph showing paid position distribution of the keyword ads you target.
A chart showing your main paid competitors (top 5 are displayed. More info can be gathered by clicking into the chart).
A graph showing your competitive positioning map relative to how many paid keywords you, and your competitors are targeting as well as traffic brought in from PPC keywords.
A sampling of some of your PPC ads
Some of the backlinks that refer to your site, what those sites are and the anchor text and URL that those backlinks link to.
The top anchor texts used in backlinks bringing referring traffic to your site.
Referring domains that are driving traffic to your site sorted by those with the most backlinks pointing to your webpages.
You most popular indexed pages that are back-linked by other domains.
And remember, all of this information is just an overview of the metrics.
To learn more about each set of data, you simply click on whatever metrics interest you to view full reports.
While we're not going to get into every possible metric point (we don't want to spoil your future exploration with SEMrush), we will discuss some of those that we use most frequently.
5. Competitor Analysis
The competitor analysis feature of SEMrush helps businesses identify their biggest business rivals and gives an insight into their marketing efforts.
To conduct competitor analysis, click on "All Tools" below the SEMrush Logo and then select "Competitive Research Toolkit".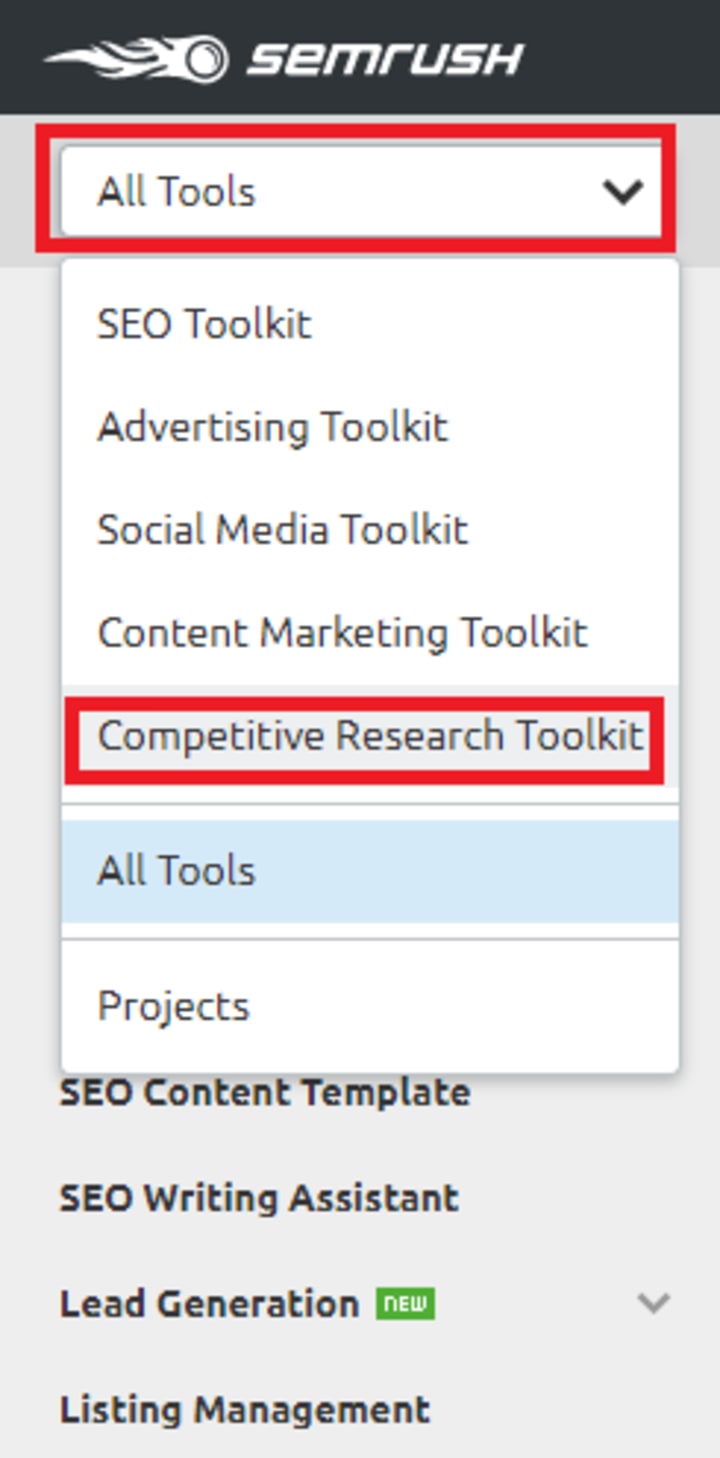 The traffic analytics feature displays how much traffic your competitors generate each month, along with its source (organic, social, paid, etc.).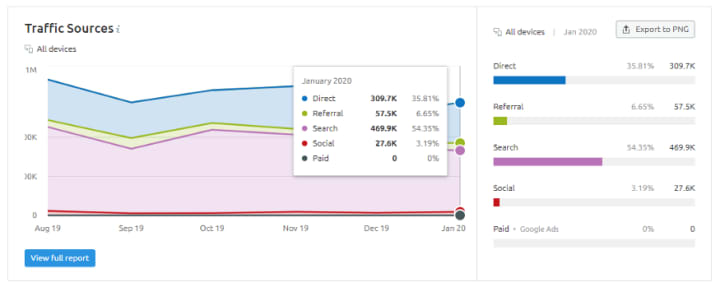 The best part about this feature is that it allows users to check how much traffic they are getting from different countries.

This helped me in understanding where most of my competitors' audience resides in and the channels they are coming from. With this insight in hand, I was able to re-strategize my digital marketing strategy and boost traffic.
If you are not sure who exactly are your competitors, SEMrush's "Market Overview" feature can help you find them easily. Enter your website's URL, and the tool will return a list of your competitors. It even shows their total traffic (divided into various categories, such as direct, referral, search, social, and paid).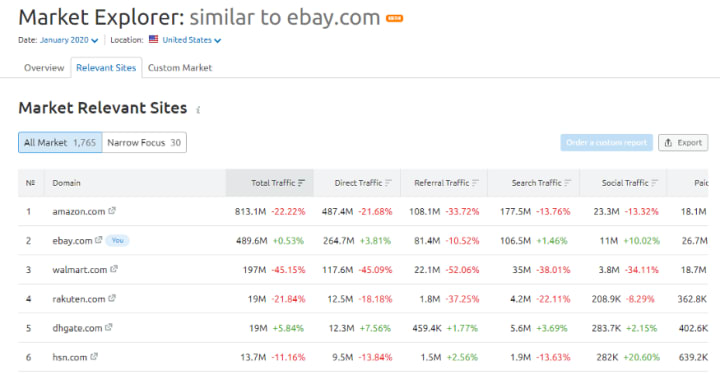 What I loved the most about the Market Explorer feature is that it displays the in-market audience interests, their age, and gender. This helps in better customizing the marketing plan and boost the ROI.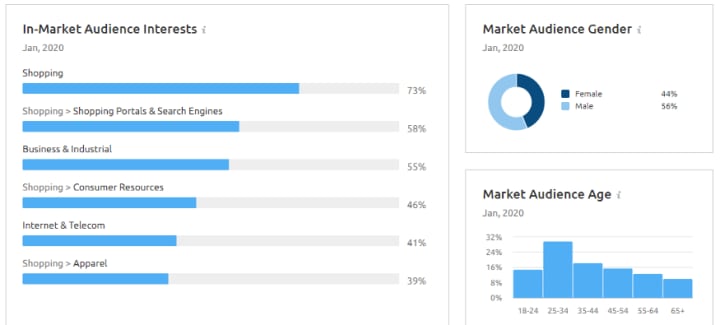 The keyword gap feature helps in finding keywords that drive traffic to your competitors but not to your site. SEMrush allows you to enter up to five domains (including yours). It shows yours and your competitor's position in the search results for the given keyword.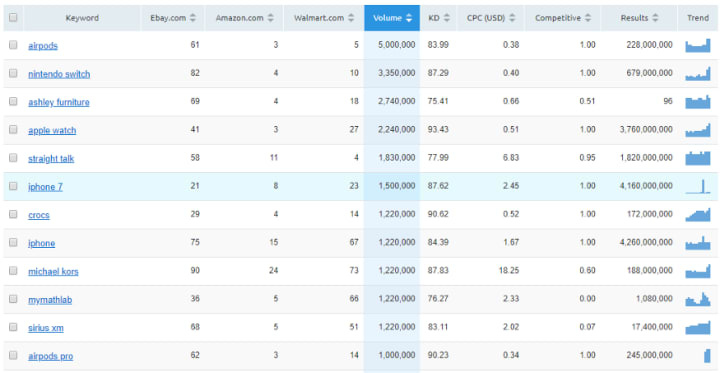 This will give you a list of keywords that drive lots of traffic to your competitors, which you can then use on your website.
Advertising research feature lets marketers find their top paid competitors, competition level, common keywords, and their paid traffic.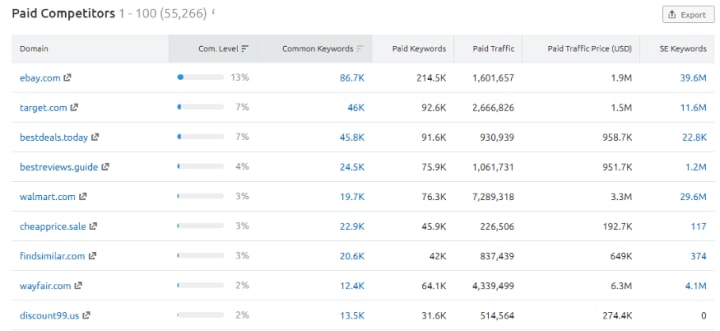 The best part of SEMrush's advertising research is that it even allows you to check your competitor's ad copies and keywords that trigger their ad to show. This, in turn, helps marketers optimize their ads for better performance.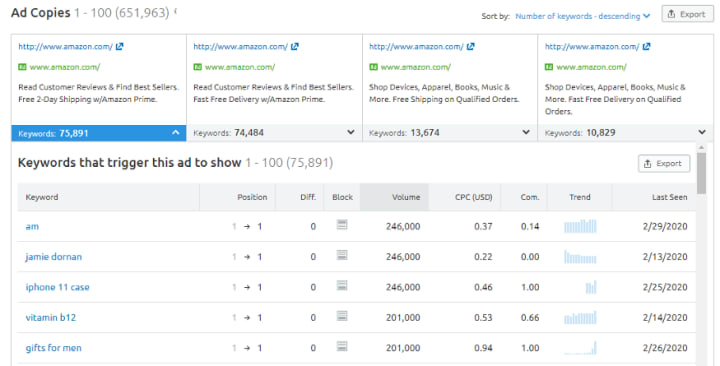 PLA research is yet another exciting feature of SEMrush that is focused on ecommerce. I used it to find my biggest competitors in Google Shopping. It helped me understand the way they advertise and price their product, enabling me to adjust my pricing strategy in real-time.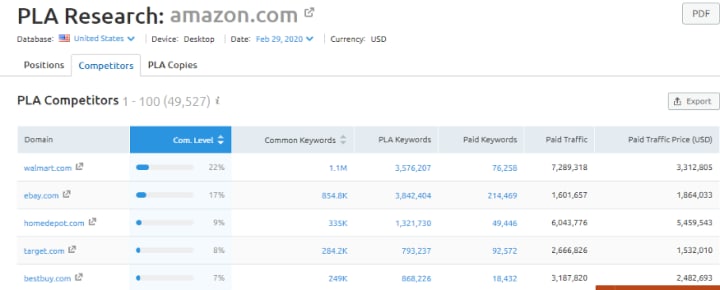 6. SEMrush On-Page SEO Checker
SEMrush offers on-page SEO checker which you can use to improve your on-page SEO for the selected pages.
This will help you to gain more organic traffic and also high ranking for your pages.
You can set up the On-Page SEO Checker from the same project page.

SEMrush will show all the On-Page SEO improvement ideas that will help you to gain higher ranking and that will result in high traffic.
SEMrush also shows you the potential organic traffic you can gain after following all the optimization ideas that SEMrush showed you.

On the On-Page SEO Checker report page, you will get the ideas that you can follow to optimize your on-page SEO for selected pages. These ideas are divided into categories:
Strategy Ideas: Strategy Ideas are related to optimizations in your keywords strategy. It happens many time when you have two pages that target the same keyword. In this situation, Google also gets confused which one it should give higher ranking if anyone is eligible. Strategy ideas help you to avoid "keyword cannibalization".
Backlinks Ideas: Backlink is one of the most important role players in the ranking. SEMrush will show you the list of domains that have given backlinks to your competitors. You can reach them for linking to you it will help you to get higher rankings in SERPs.

Technical SEO Ideas: Techincal SEO issues may negatively affect your website's SEO and you may lose all the hard work you did on your website. But SEMrush On-Page SEO checker will notify you about the technical issues on your website and show how to fix them.
User Experience Ideas: Google deeply cares about the User experience, SEMrush will show you the User Experience improvement ideas you can follow to provide a good user experience to your visitor.
For getting user experience ideas, you need to connect to your Google Analytics account.
SERP Feature Ideas: SERP Feature ideas will help you to get the feature snippets in SERPs.
Semantic Ideas: Apart from the keywords, Google also look for the related words in your content to find its relevancy. SEMrush will show you all the ideas what you need to follow to improve the relevancy of your content using Semantic keywords.

Content Ideas: SEMrush will show you the ideas about how you can place your target keywords to get the most out of SERPs. It will provide you with content optimization ideas like Keyword placement, readability improvement etc.

SEMrush On-Page SEO Checker tool is really helpful to improve the on-page SEO which leads to getting higher rankings and traffic.
7. Create SEO Friendly Content
Taking SEO optimization to the next level, SEMrush analyzes Google's top-10 ranking pages for your target keywords and provides suggestions on how to create SEO-friendly content.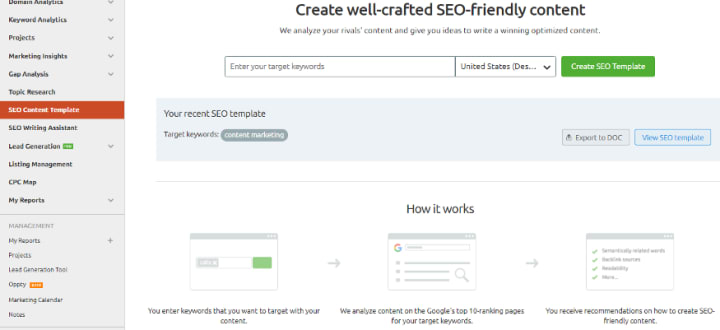 Having been using the SEO content template for quite some time now, I can surely say this is one of the most powerful features of SEMrush. Why? Because it shows semantically related keywords that you should be using, websites from where you can acquire backlinks, and the average text length of your content.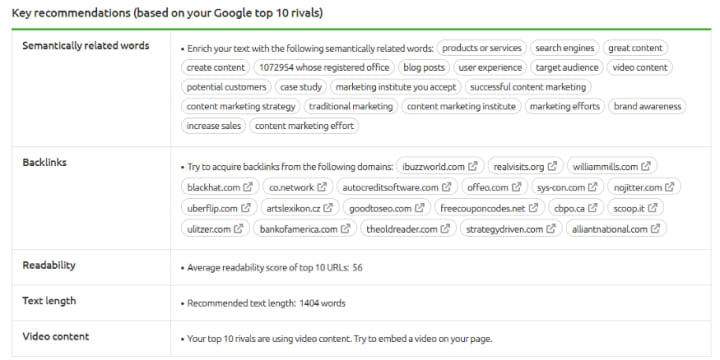 It isn't over yet! You also get to see how the top ten sites use your target keywords along with basic recommendations (such as page title, meta description, H1, and text).

There's still more to it, and that's my favorite part. The "real-time content check" feature allows you to check the readability, SEO, uniqueness, and the tone of voice of your content.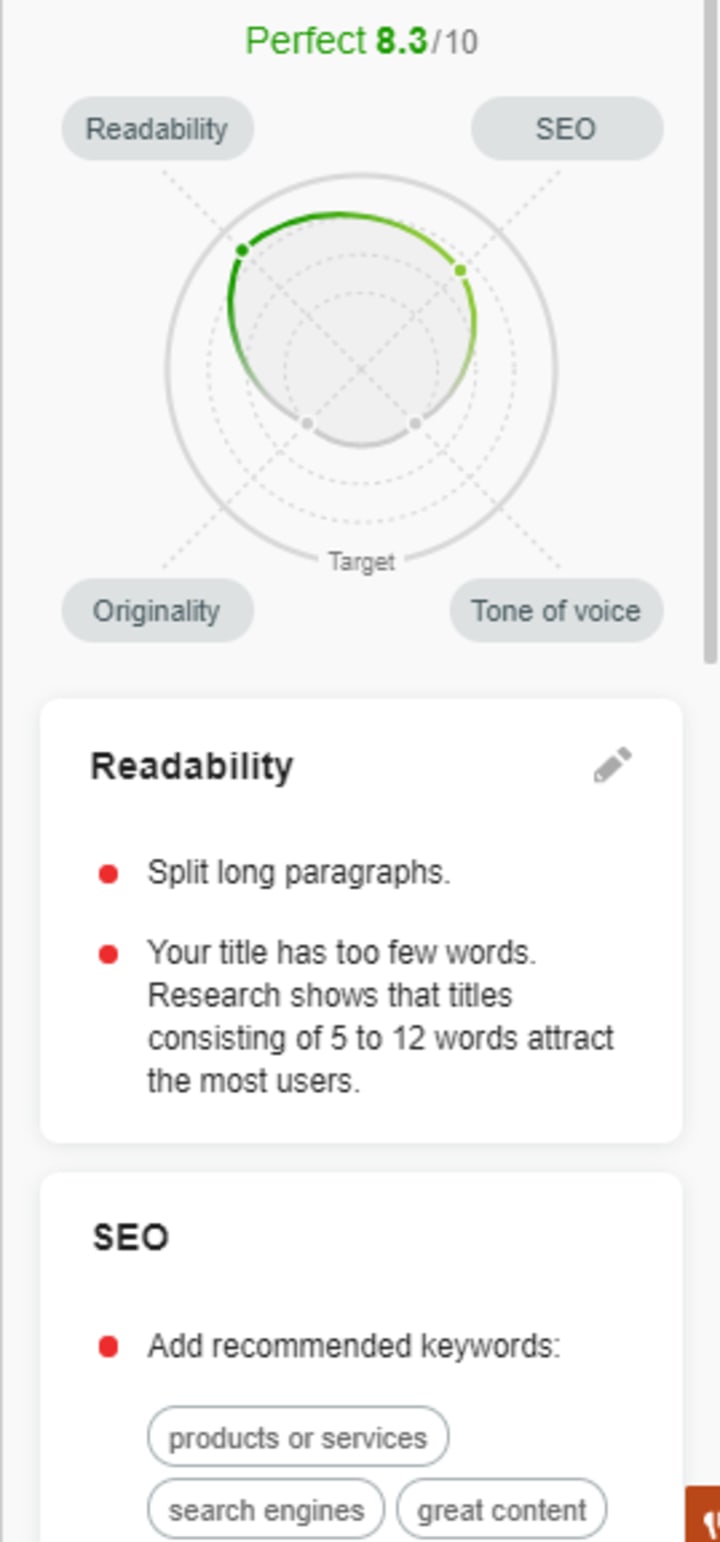 SEMrush also provides an add-on for Google Docs and WordPress. As you type, your content will be checked for SEO-friendliness based on your target keywords.
8. SEO Writing Assistant
Content analysis does not lend itself to the same kind of analysis as link building, at first glance. To calculate the quality of a piece of content requires data, of course, but there is more to this decision.
While data is objective, people make subjective, individual choices. If 100 people search for the exact same thing, they may have 100 different ideas of what a "good" search result will look like.
Google has struggled with this task, despite its enviable resources. To simplify the process, Google has typically relied on keywords to identify the relevance of an article to a search query. Content quality is then decided based on hundreds of factors, but inbound links have always been used as an indicator. That approach opened itself to spam, with businesses stuffing keywords in content and buying links to trick the system.
Through a host of artificial intelligence improvements and headline-grabbing algorithms, Google has improved its understanding of language significantly.
Businesses knew the keyword-led approach was a fudge, but it was at least somewhat predictable. SEMrush has built a writing assistant to inject some of this reliability back into SEO content creation.
You can add your content into the tool, or use the plugins available for Google Docs and WordPress. As you write, SEMrush will provide pointers to help you optimize your content for the target search query.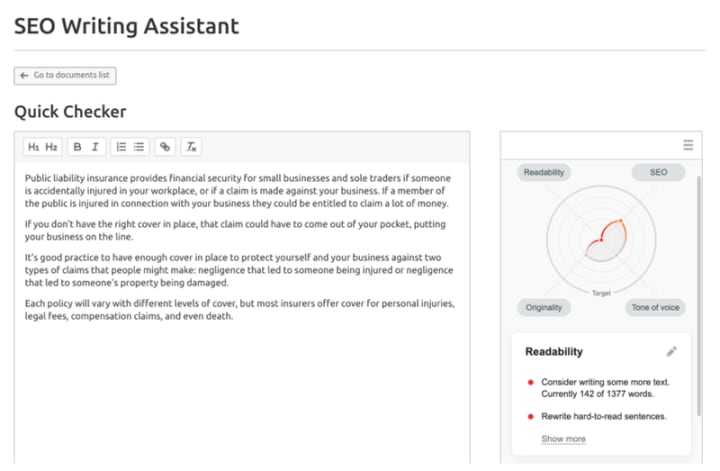 You can use the SEMrush SEO writing assistant to test how well your content will perform — before you publish it.
Source: SEMrush.
To put it mildly, it is unlikely that you'll win a Pulitzer Prize if you follow these recommendations to the letter. They are simplistic and general, so you should use them as broad guidelines rather than strict rules.
SEMrush Sensor
SEO is notoriously volatile. As soon as you think you have important ranking positions nailed down, Google makes an update that shakes up your entire industry.
While it's certainly true that following best practices and serving your users will lead to reward in the end, there are still unexpected changes along the way.
Businesses have typically been slow to notice these updates, never mind react to them. SEMrush monitors the SEO landscape for significant deviations and displays a daily report.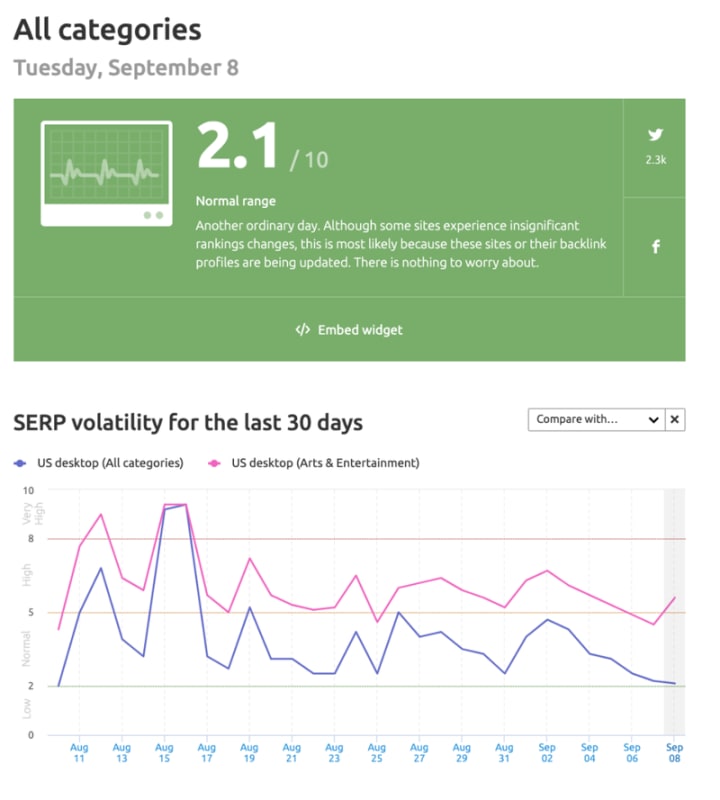 The SEMrush Sensor will help you adapt to the never-ending changes in SEO.
Source: SEMrush.
This feature also offers analysis of "SERP feature occurrence," meaning that it tracks the different types of content that show up for each query. If you run a business insurance company, for example, it would be useful to know if Google suddenly starts showing more images for your target queries.
You could then create new assets to match this user intent and attract more traffic. This is another area where SEMrush can create a competitive advantage for you.
9. Manage Social Media
Managing various social media platforms has always been a headache for solo entrepreneurs and small businesses. Again, thanks to SEMrush, it allows you to manage, schedule, and track all your social profiles in one place.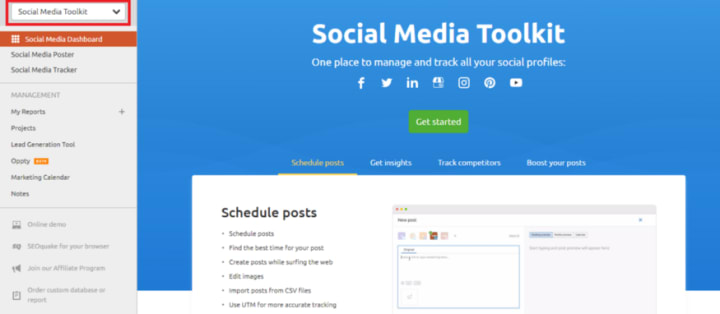 What I like about Social Media Toolkit is that it covers almost all major social media platforms, including Facebook, Twitter, LinkedIn, GMB, Instagram, Pinterest, and YouTube.
While there are lots of things you can do with SEMrush's Social Media Toolkit here are a few things that I loved the most:
Find the best time to post.
Use UTM to track the performance of your posts.
Schedule posts.
Understand your social audience (age, country, and when they are online).
Find out which content resonates well with your audience.
Compare the effectiveness of your social media and your competitors'.
Get detailed stats about your social media ads.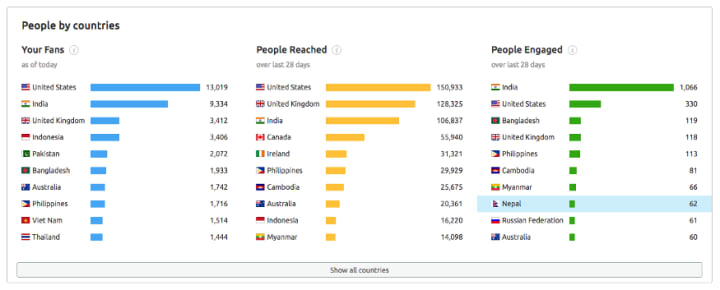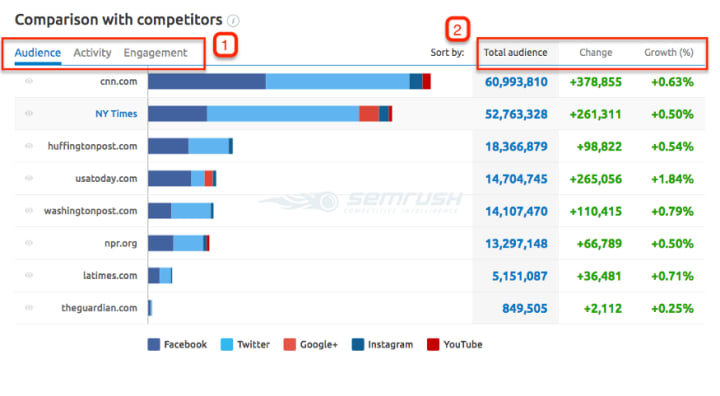 Whether you're just starting out with social media or have a huge fan following across networks, SEMrush's Social Media Toolkit can make it easier to track, manage, and boost your social presence.
Rating for SEMrush
All in all, SEMrush is an amazing tool that can provide an overabundance of information for anyone looking to optimize their website, find the most profitable keywords to target, and/or uncover loads of information about their competitors.
From what we've studied (and hopefully you can now see for yourself) SEMrush is easily the best SEO keywords tool available on the market right based on the immense amount of information and metrics available for view.
However, SEMrush may not be best for the casual user as it can take quite a bit of time getting comfortable with finding all of the useful data one can compile to improve their site and keyword strategy.
Fortunately, SEMrush offers tons of resources in the forms of whitepapers, a comprehensive FAQ page, video tutorials, and regular webinars for users of all skill levels. And their support team offers detailed, helpful answers in a timely manner.
For us here at IMPACT, we easily give this amazing tool 5 out of 5 stars and will be using it for ourselves, recommending it to our clients, and recommending it to anybody who asks us about it. It really is that awesome.
With all of that said, there is still one question to address…
How much does SEMrush cost?
SEMrush offers three plans: Pro, Guru, and Business. Which one is perfect for you? Here's what SEMrush has to say.
Are you a freelancer or an in-house marketer or a startup with a limited budget? If yes, then the Pro plan ($99.95/month) would be sufficient for you.
Are you a small business or a growing marketing agency? If yes, then the Guru plan ($199.95) is for you.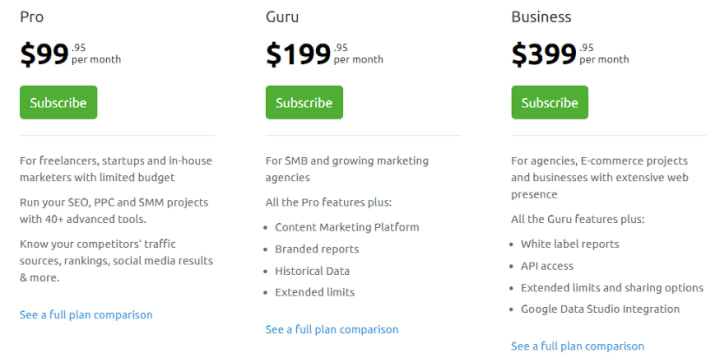 For large enterprises and ecommerce businesses with an extensive web presence, the Business plan ($399/month) is perfect for you.
The major difference in these plans is the number of users, topics to research, keywords to track, SEO ideas, and the pages you can crawl per month.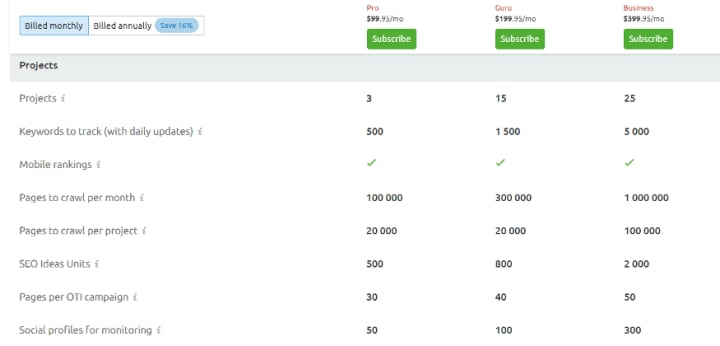 In the Pro plan, you can only create scheduled PDF reports, but with Guru and Business plan, you can also build branded PDF reports. The Business plan also allows you to create white-label reports and integrate Google Data Studio.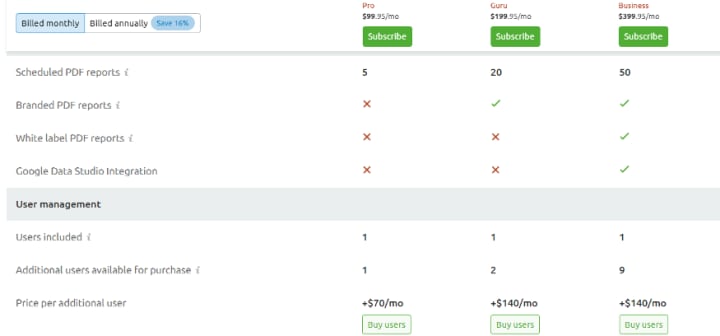 When it comes to content marketing, the Pro plan lets you generate content ideas for only two topics, whereas there's no limit in topics to research in Guru and Business plan.
Similarly, you can create only one SEO content template in the Pro plan, track up to five posts, and audit 50 pages.
The Guru plan allows you to create up to 800 SEO content templates, audit over 20,000 pages, and design one calendar.
The Business plan enables you to create 2,000 SEO content templates, audit over 20,000 pages, and design as many calendars as you want.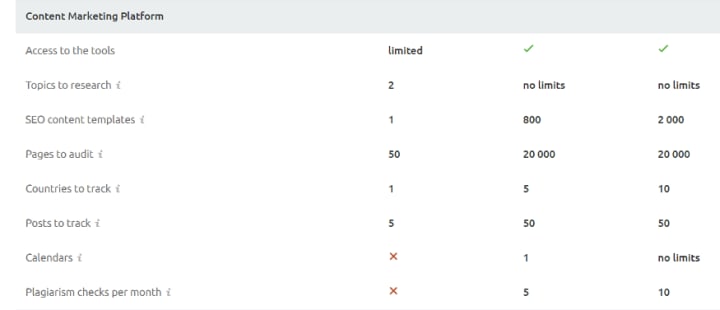 You can save up to 16% by paying the premium for one year at once. The price of the Pro plan gets reduced to $83.28/month from $99.95/month, Guru to $166.62/month from $199.95/month, and Business to $333.28/month from $399.95/month.

SEMrush Pro Vs SEMrush Free
Many users are skeptical about paying for a tool at first, especially when they haven't used it. This is the reason, pricing is an important part of SEMrush review.
Fortunately, SEMrush offers a free version, but with limited functionalities. Here's the difference between SEMrush Free and SEMrush Pro.
1. Domain and Keyword Analytics
SEMrush allows up to ten searches a day in its Domain Analytics and Keyword Analytics. This means you can generate up to ten reports per day with your SEMrush Free account.
Note: When you enter a domain in SEMrush, that would be considered as one search. However, if you click further on any links within the domain overview report, that would be considered as another search: bringing your total to two searches.
With SEMrush Pro, you get access to 3,000 searches per day.
With SEMrush Guru, you get access to 5,000 searches per day.
With SEMrush Pro, you get access to 10,000 searches per day.
Similarly, with a free SEMrush account, you are limited to ten results per search. For example, if you want to research keywords, you'll only be able to see the top ten phrases.
With SEMrush Pro, you can access up to 10,000 results per search.
With SEMrush Guru, you can access up to 30,000 results per search.
With SEMrush Business, you can access up to 50,000 results per search.
2. Keyword Magic Tool
When you search a keyword in SEMrush, the Keyword Magic Tool keeps a history of it. This makes it easier for you to go back at any time and check the keywords you searched for in the past. However, this feature is only available for premium users.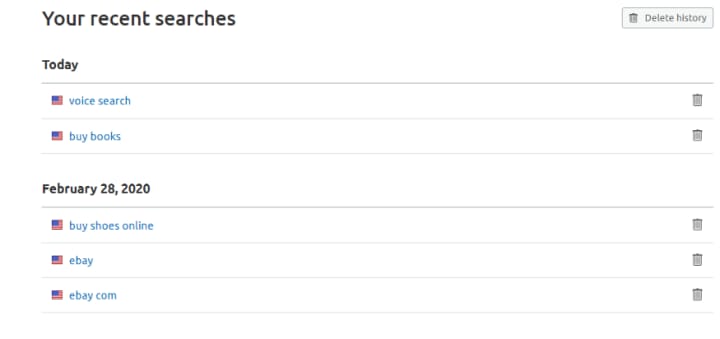 As a free SEMrush user, you can create and manage only one project. The project is the same tab that allows you to conduct a site audit and on-page SEO research.
If you want to add more projects, you'll have to upgrade to SEMrush Pro that includes five projects. The Guru plan allows you to add 15 projects while the business plan offers 25 projects.
4. Site Audit
As a free SEMrush user, your site audit is limited to 100 crawled pages, including your domain and subdomains. If your site has less than 100 pages, a free account will do the work, but if you have more than 100 pages, you'll need to upgrade to a Pro plan.
The Pro plan allows you to crawl up to 100,000 pages per month.
With the Guru plan, you can crawl up to 300,000 pages per month.
The Business plan enables you to check one million pages per month.
5. Position Tracking
As mentioned above, the position tracking tool allows you to add your domain, keywords, and competitors. It then tracks the daily ranking of your website and your rivals on the results page for your target keywords.
However, free users can only track up to ten keywords. If you want to monitor more phrases, you will need to upgrade to a paid plan.
The Pro plan gives you 500 keywords.
The Guru plan gives you 1,500 keywords.
The business plan gives you 5,000 keywords.
6. Topic Research
Both free and pro-SEMrush users are limited to two searches in topic research. If you want access to unlimited queries, you will need to buy either Guru or Business plan.
Pros & Cons of using the SEMrush tool
Nothing is perfect. Every tool comes with their own advantages and disadvantages. Let's check details about SEMrush before you signup.
Pros of using SEMrush.:
Below are free reasons you need to use SEMrush tool to improve your website SEO:
It's an all-in-one SEO tool, With SEMrush you get access to 45 different tools to improve your website performance.
Provide you with accurate data on any websites like organic traffic, top keywords, etc.
SEMrush SEO audit tool helps you with your website all site issues like broken links, advanced SEO analysis, etc.
SEMrush has the largest database with 20 billion keywords, 142 geodatabases with 6 million+ users.
Research millions on Keyword ideas.
You can track your website's daily ranking on different keywords.
Fining keywords for PPC campaign.
Check your website content quality in real-time.
You can analyze your competitor's website performance on different social media.
Create, manage, and optimize your Facebook, Instagram ads.
And my favorite, Competitor keywords research is incredible.
Cons of using SEMrush:
SEMrush interface isn't user friendly. It's a little too technical for beginners.
They only provide data for one search engine Google.
SEMrush pro and Guru plans only come with one user account access.
SEMrush's support
The SEMrush blog and supporting resources are among the best on the market today. There is a help center and a podcast, and the SEMrush Academy is superb.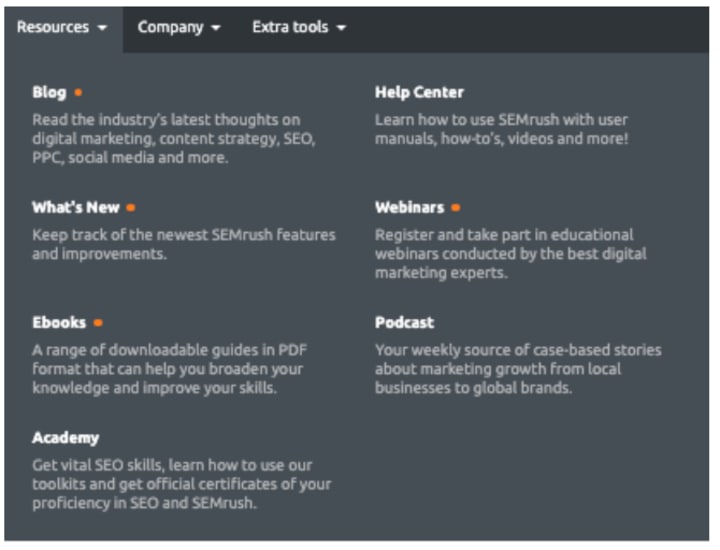 The resources on SEMrush are wide-ranging and easy to access.
Source: SEMrush.
For technical support, SEMrush provides a phone number, as well as email and chat options. These are not as prominent as they could be within the main interface, as most of the support details are contained in the footer. That said, the choice of three options is welcome and compares favorably to many competitors.
My final thoughts on SEMrush
In my opinion, after trying SEMrush for a few hours. I concluded that it is an incredible tool for online companies that want to improve their website to improve search engine traffic and PPC.
I've used many other keyword research tools before, but none of them come close to SEMrush in terms of information and metrics.
But for beginners, I can definitely see a problem with a lot of information. But this can be corrected over time.
The good news is that SEMrush is an established company with a lot of excellent information to help its users. So there should be no problems with using SEMrush as long as you ask for help.
With that said, I recommend SEMrush as the SEO toolkit for optimizing your website.
How to claim SEMrush Free Trail?
Getting SEMrush free trails quite easy, you don't need any custom coupon code. All you have to follow below steps correctly to get 7 days free trails.
1: First Step: "CLICK HERE" to visit SEMrush Website to activate free trail automatically.
Step 2: Now click on the "Try It Free" button to continue.
Step 3: Now you have to create a SEMrush account to claim a free trial. Just enter your valid email and password and then click on the "Create your account" button otherwise, if you already have a SEMrush account then click on the login option to continue.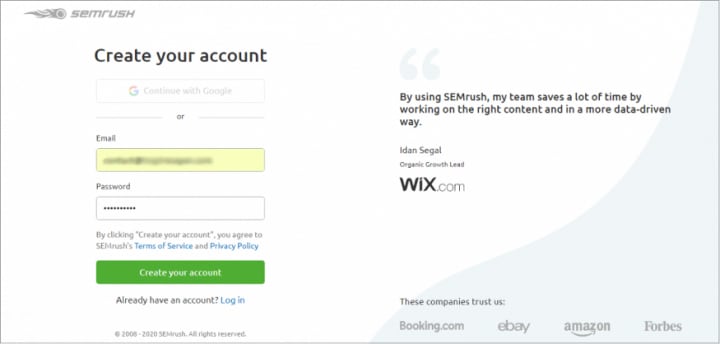 Step 4: After creating your account, you have to select your SEMrush trial plan, you can try the Pro or Guru plan for 7 days for free. And you can cancel your trial account anytime. After selecting your plan, click on the "Get free trial" button to continue.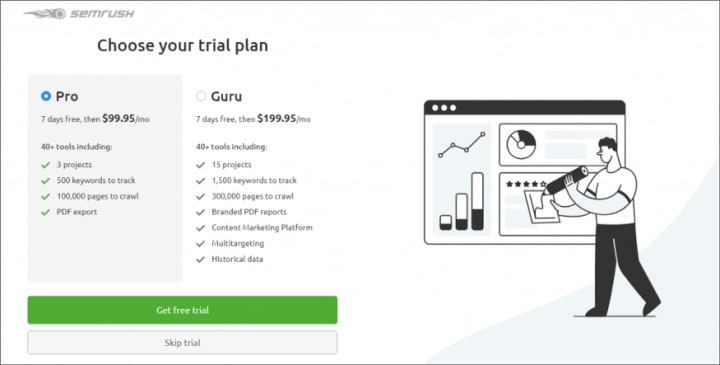 Step 5: Now, on the checkout page, you have to enter your card details. After filing all details click on the "Place the order" button to activate your SEMrush free trails.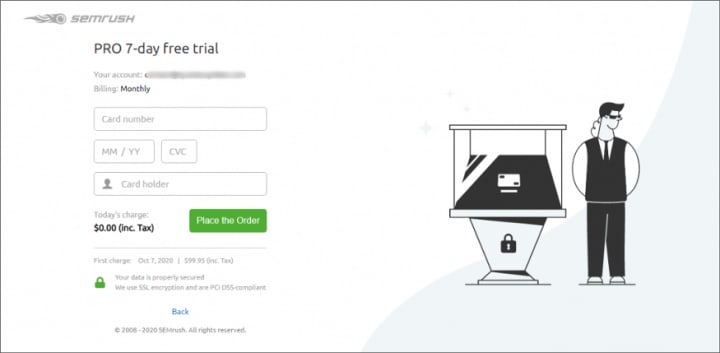 That's it. I hope you received your SEMrush free account for 7 days.
Note: If you are new SEMrush users then my recommendation would go for an annual plan. The higher the term plan will be, you will get more savings on SEMrush.